G20: anti-capitalists clash with police in Turkey
Comments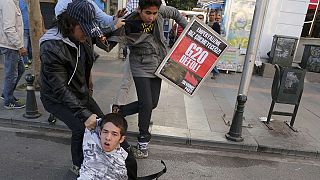 Anti-capitalist protesters have gathered in Antalya as the Turkish city plays host to the G20 summit.
Their focus is on Aydin Kanza park.
G20 protests in Antalya euronews</a> Antalya&#39;da G20 protestoları da başladı <a href="https://twitter.com/euronews_tr">euronews_trpic.twitter.com/HenMLT6WPa

— Bora Bayraktar (@Bora_Bayraktar) November 15, 2015
Protests in Antalya where #G20 Summit is being held. Security forces almost outnumber demonstrators. pic.twitter.com/GB6dChvfQh

— Anelise Borges (@AnneliseBorges) November 15, 2015
The authorities are taking no chances. There is a heavy police presence in the area.
Police barricades and water cannons are everywhere in Antalya city #StopG20#G20DefolYourAnonNews</a> <a href="https://twitter.com/NewsRevo">NewsRevopic.twitter.com/dOONX9wvOU

— Komünos (@komunos_) November 15, 2015
For many, the contrast between rich and poor is too much to take:
"There are hungry people in the streets," said one man. "Antalya is full of beggars. It is not logical to hold the G20 summit here while this is the reality. I am here in protest."
"Capitalists and imperialists are meeting in Antalya," said another. "They are negotiating the carve-up of the Middle East."
"We are against the imperialist powers,"cried another woman. "We are oppressed by the capitalist system. There is hunger, nature is being polluted, terror is growing due to capitalism. We don't want the G20 in our country."
Tense atmosphere
The protesters tried to get to the G20 venue in the nearby resort of Belek but were turned back.
#G20Turkey
#PressFreedom
dokuz8haber</a> journalist <a href="https://twitter.com/EylemSonbahar">EylemSonbahar reporting on #G20 protests in #Antalya detained pic.twitter.com/zi7LhTEa45

— dokuz8 (@dokuz8haber) November 15, 2015
Scuffles broke out with police. Several people were arrested.
Euronews Correspondent Bora Bayraktar says the atmosphere in the area was tense. Demonstrators say they could not make their voices heard and had to protest from afar.