French Islamic community fears backlash following Paris attacks
Comments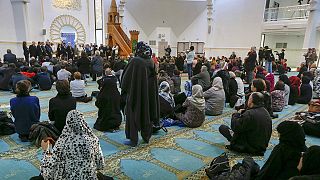 Barbes is a Parisian neighbourhood with a high percentage of Muslim residents. As in other parts of the French capital, the streets were quiet following Friday's attacks.
Euronews spoke to Rachid, a 30-year-old Moroccan immigrant who calls Paris home. He has fallen on hard times and fears his situation may worsen if there is a backlash against the North African community in France due to the recent action of Jihadist terrorists.
"It's going to be hard for people like me to find a job," explained Rachid. "I'd like to give all north Africans, all Muslims some advice – they should express their solidarity and protest against everything that these people are doing."
France is home to Europe's largest Muslim population, with discrimination against the community a common complaint.
Since Friday, security has been increased, only accentuating the feeling of unease among a section of society under scrutiny.
"Since I arrived here in 2000, I've never been stopped and checked before," said Mustapha Zilfi, a North African immigrant, sipping a coffee in a local café. "Yesterday, I was asked, "what's in your pockets, what's in your bag?" I feel humiliated, because after 15 years here, I feel that part of me is French."
"It is really shameful that they are soiling the image of Islam. Islam is the opposite. It is not what these people have done," explained another local resident, Wahid Barek.
Muslim groups across the globe have been quick to condemn Friday's attacks.
At Paris' central mosque, police guarded the entrance.
Euronews' correspondent in Paris, Valerie Gauriat said:
"The number of worshipers was scarce, with many unwilling to speak with us. The members of the Muslim community that we have met are worried and angry. They strongly condemned Friday's attacks and called for their community to speak out against the terror committed in the name of Islam."