"They shot right into the crowd, shouting Allah Akbar"
Comments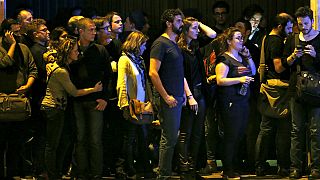 "They shot right into the crowd, shouting Allah Akbar" ("God is greatest"), a witness reported following the attack on the concert hall.
"Some guys arrived, they started shooting near the entrance," he said. "They shot right into the crowd, shouting Allah Akbar, with shotguns I think (…) I could hear them reloading. The concert stopped, everyone was lying on the ground, they continued to shoot at people, it's hell," he was shackled, his voice broken by sobs.
"I grabbed my mum, we lay on the ground," another witness said. "We fled through an emergency exit, still hearing shots, it shook us completely. It is a nightmare," added the witness, who said he had seen the attackers as "silhouettes when they started firing the first shots. "
"My sister is in the Bataclan," said Camille, 25 years old. "I called her. She said they were shooting. And then she hung up."
Daniel Psenny, a journalist with Le Monde newspaper, lives behind Le Bataclan and was injured by a bullet in the arm. He says he saw the drama unfold from his window and went out into the street to help.
"I opened the door of the building," he said. "There was a man lying on the pavement. With another man I've not seen since, we pulled him into the hall for shelter. I must have been hit by the bullet at that moment…. I remember feeling what felt like a firecracker explode against my left arm, and I saw it was pouring blood. I think the gunman was at the window of the Bataclan. We went to a couple of neighbours who live on the fourth floor. The guy we had taken in had a bullet in his leg. He's an American. He was vomiting, he was cold, we thought he was going to die. We called the fire service, but they couldn't evacuate us. I called a friend who's a doctor, she explained how to make a tourniquet with my shirt. So we remained stuck there until the assault took place and the special forces came to look for us."
The journalist filmed the scene from his window as people fled the venue after the gunmen's assault. The sound of shots and screams can be heard amid scenes of panic that some may find distressing:
Images de la fusillade au Bataclan
par lemondefr
Another incident happened in Rue Bichat, in a restaurant, Le Petit Cambodia: "It was surreal, everyone was on the floor, no one moved," another witness said.
"It was very quiet, people did not understand what was going on. A girl was carried by a young man in his arms. She looked dead."