UK and India sign deals worth 12.7 billion euros during Modi visit
Comments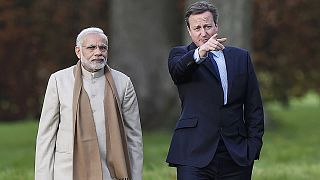 Britain and India have signed business deals worth more than nine billion pounds (12.7 billion euros) during a visit to the UK by Indian Prime Minister Narendra Modi, who got a warm welcome from David Cameron.
His British counterpart has tried to cultivate closer ties with India at a time when Modi has been prioritising other relationships.
The two sides signed a civil nuclear pact and decided to collaborate in the field of defence and cyber security.
They also launched a rupee bond for Indian railways; Cameron says he wants to support India's efforts to improve its infrastructure.
Among more than 20 deals is a 1.3 billion pound (1.8 billion euros) investment by Vodafone in India.
Indian businesses in the UK employ some 110,000 people, 65,000 for the Tata group.
The visit has been met with protests over India's human rights record and Modi's stance.
Immigration restrictions towards Indian students have also been criticised.