Oxfam confronts EU member Bulgaria over serious refugee complaints
Comments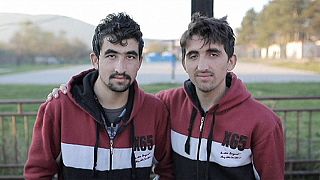 Oxfam reports that refugees arriving in Europe through Bulgaria are claiming to have been abused by its police.
A survey funded by the international anti-poverty confederation alleges that incidents have taken place both at the Serbian-Bulgarian border and at holding centres in Bulgaria; more than 100 people interviewed, most of them from Afghanistan, Syria and Iraq, told of extortion, robbery, physical violence and police dog attacks.
Oxfam calls on Bulgaria to investigate shocking #humanrights abuses against #refugeeshttps://t.co/p1Qmnmnsugpic.twitter.com/zgJlMZpalq

— Oxfam International (@Oxfam) 13 Novembre 2015
The Helsinki Committee for Human Rights in Sofia confirms similar accounts.
In Dimitrovgrad, on the Serbian side of the border, refugees are registered and given a 72-hour pass to cross this non-EU country. Most are men and unaccompanied adolescents. Those from Afghanistan have come through Iran, Turkey, and Bulgaria.
Jahanzeb, giving his age as 16, said: "I have faced many difficulties on my way here, and haven't had a minute of peace. Almost every day I have cried. I have been beaten up. If my mother knew, she would not stop crying. I could not walk for a whole week because my feet were raw and bleeding. Bulgarian policemen stole my shoes."
Oxfam quoted Nikolina Milic of the Belgrade Centre for Human Rights as saying: "What seems to be happening in [EU member] Bulgaria daily is totally unacceptable."
Olan Hussein, from Iran, said: "I have been travelling for almost a month and a half. I left Iran for Turkey and then Bulgaria, where I was imprisoned for 18 days. I crossed the border and the Bulgarian police arrested me and put me in a camp that was really a prison. They took my passport — and would not give it back to me."
The Serbian government provides a daily bus from Dimitrovgrad to Belgrade. From the capital, another bus goes to the Croatian border.
A few days ago, Sofia news agency Novinite carried the headline: Bulgarian President Identifies Refugees as Posing Greatest Threat to National Security.
You can read the Testimony of people arriving in Dimitrovgrad, Serbia from Bulgaria here.