Food for thought for Draghi and ECB as eurozone's recovery splutters again
Comments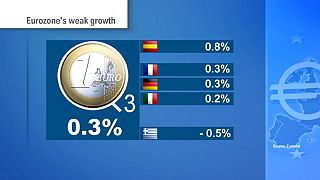 Still struggling to get off the ground from the poshest to the poorest districts of the eurozone: growth was slower than expected in the third quarter.
Economists said it was likely to be the result of negative net trade with the rest of the world, which was clear in the case of France, Germany and Italy.
According to Eurostat the GDP of the 19 countries sharing the single currency expanded 0.3 percent in the July to September period; economists had been predicting 0.4 percent.
The year-on-year rise was also a percentage point down on expectations, 1.6 percent instead of 1.7 percent.
Euro area GDP +0.3% in Q3 2015, +1.6% compared with Q3 2014 #Eurostat – https://t.co/t83KcLWq89pic.twitter.com/zwRG0uzVJh

— EU_Eurostat (@EU_Eurostat) 13 Novembre 2015
Growth increased by the highest margin in Spain – 0.8 percent – though still by less than one percent, less also than in the previous quarter.
The eurozone's two biggest economies France and Germany both grew by 0.3 percent, in line with expectations, Italy by less than anticipated at 0.2 percent.
Greece (-0.5 percent) was one of three eurozone countries – the others being Estonia (-0.5 percent) and Finland (-0.6 percent) – whose economies shrank.
"In the third quarter, we really did see a sharp (German growth) slowdown and that has continued into the early months of Q4, and now if you look at German exports, if you look at factory orders, if you look at production, then they're all painting a fairly gloomy picture," said Nick Parsons, the National Australia Bank's Head of Markets Strategy for Europe.
#EUROZONE: TWOCHEERSFORTHE#PERIPHERY
https://t.co/pGtlHdveDspic.twitter.com/JhxuKPdZ46

— Berenberg Economics (@Berenberg_Econ) 13 Novembre 2015
The figures have increased expectations that the European Central Bank will step up its monetary stimulus to the economy next month.
An inflation level well below official targets, and growth still in the doldrums, continue to give Mario Draghi food for thought.
"The ECB's got three potential weapons it can deploy. It can change the price of money, it can change the quantity of money, or it can change the time over which it makes that money available. I don't think it will use them to all its maximum capability, simply because it will want to keep some of its powder dry," Nick Parsons said.
It's thought the ECB may elect to step up the pace of its government bond-buying programme and signal that such purchases may go on beyond next September – in the hope that the eurozone's economy gets the shot in the arm it needs.