Stuart Lancaster steps down as England Rugby Union coach
Comments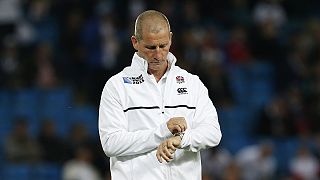 Stuart Lancaster has made his final appearance as the coach of the England Rugby Union team. The 46-year-old who was in charge of his country's ill-fated World Cup campaign has resigned.
"I ultimately accept and take responsibility for the team's performance," he said in a statement.
England became the first host nation to be eliminated in the group's stages of the tournament.
Lancaster who had never played or coached at international level before took up his position in 2012. He won 28 of his 46 games, but failed to win the Six Nations.
"I took on the role in difficult circumstances and it has been a huge challenge to transition the team with many hurdles along the way," he added.
"However I am immensely proud of the development of this team and I know that there is an incredibly strong foundation for them to progress to great things in the future."