Private jet crashes in Ohio - several feared dead
Comments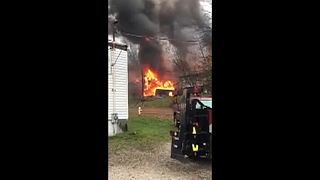 As many as nine people are feared dead after a business jet crashed into an empty apartment building in Akron, in the US state of Ohio. It's unknown how many people were on board. There are no reports of injuries on the ground.
It's believed the jet clipped an over head cable on its landing approach to Akron airport and then struck the building.
Akron city officials said buildings nearby were also affected. A separate witness said, "Everything around it had gone, it looked like a bomb had exploded."
An investigation is underway.