Migrant crisis: Slovenia begins building fence on border with Croatia
Comments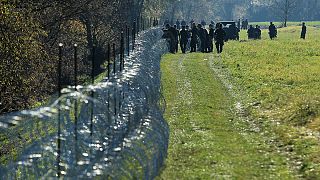 Slovenia has started erecting a wire fence along its border with Croatia to help control the flow of refugees and migrants arriving daily.
Since mid-October, around 180,000 people have entered the country. The smallest nation on one of the main migrant routes, Slovenia has struggled to cope since Hungary closed its frontier with Croatia, diverting thousands of people westwards.
Prime Minister Miro Cerar called the fence "hurdles," saying:
"Such a large flow can jeopardise the security situation in Slovenia and as prime minister I cannot allow such a humanitarian catastrophe on our territory. The hurdles will serve to direct the uncontrolled crossing of refugees and to prevent the dispersion of migrants, and direct them to the crossings where we will do everything to control the flow and limit the number of migrants to the levels Slovenia can manage."
The Slovenian government says the border is to remain open. However, it is not yet clear how many kilometres the fence will cover.
On Tuesday (November 10), some 7,500 people flocked into Slovenia, while 6,600 moved north into Austria.
By 11.00am CET the next day, 2,200 migrants and refugees had already entered the country.
Up to 175 police officers have been drafted in from EU member states to help manage the flow of people. A further 100 are expected within the next fortnight.