EU leaders to urge African nations to take back economic migrants
Comments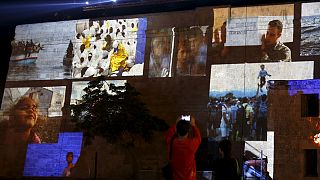 The European Union is to call on African leaders to play their part in trying to solve the migration crisis by taking back the economic migrants. Refugees from war will be able to apply for asylum within the bloc.
The issue will be raised during today's migration summit in Malta attended by 50 leaders from Europe and Africa.
In return for cooperation from the African nations billions of euros in development assistance will be offered.
Europe will also provide funding to help solve conflicts and wars and alleviate poverty in Africa. Conflicts and poverty have been the root causes of almost 25 percent of 800,000 migrants this year. Moreover, the European Commission is also expected to announce a 1.8-billion euro emergency trust fund for Africa.
EU leaders want to keep their focus on Africa as many of the current refugees who have arrived in Italy are Eritreans, Sudanese and Nigerians.
Meanwhile countries on the front line of the surge in migrants as they make their way through the Balkans to northern Europe are taking what they see as necessary procedures. In Slovenia which is acting as a transit country to thousands of migrants, Prime Minister Miro Cerar has said he is setting up "temporary technical hurdles" along the border with Croatia to control migrant flows.
"We are not closing the border by doing this – the border will remain open but it will be monitored at control points. The hurdles will serve to direct the uncontrolled crossing of refugees and to prevent the dispersion of migrants, and direct them to the crossings where we will do everything to control the flow."
In Calais frustration among migrants boiled over into anger for a third consecutive night. In the overflowing camp know locally as the Jungle there were more clashes with police.
Today's summit in Malta will also focus on the security aspects of the migration crisis.