Migrant crisis piles political pressure on Merkel
Comments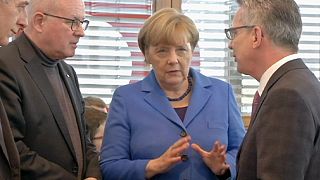 German Chancellor Angela Merkel is coming under increasing domestic political pressure to find a lasting solution to the refugee crisis, which will see at least 800,000 people arrive in Germany by the end of the year.
On Tuesday it emerged that Berlin had reintroduced The Dublin III agreement on October 21, which states that each individual must apply for asylum in the country in which they first enter Europe.
The German Interior Minister Thomas de Maizière defended the decision: "The numbers, especially of Syrians, has risen to such an extent that no one could have seen in October. Circumstances have forced us to make adjustments."

Generalangriff auf Flüchtlingsrechte https://t.co/0J76i6f9Jt#DeMaiziere#refugeespic.twitter.com/K9QzHnvJJ8

— rotefahnenews (@rotefahnenews) November 11, 2015
AfD, 'Germany's UKIP', Sees Surge In Popularity On Back Of Migrant Crisis https://t.co/7rp1m324Mnpic.twitter.com/aKwcELCujL

— Breitbart London (@BreitbartLondon) November 10, 2015
As well as sniping from within her own party the right has mobilised against Merkel's refugee policy and the far-right continue to cast a menacing shadow and attack refugee shelters.
#Refugees shelter.. targeted in arson attacks in #Germany, reports London DailyMail http://t.co/qEbYrnjgpipic.twitter.com/ETgtkhFtGh

— bahauddeen latif (@BahauddeenLatif) September 8, 2015