Euronews visits Syrian government stronghold after recent attack
Comments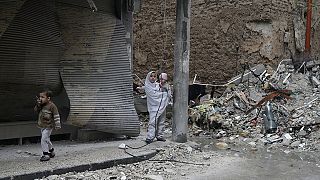 "Latakia mourns the victims of the shelling which killed and wounded dozens of citizens in the city centre. The authorities of this coastal province believe that the shelling is in retaliation for recent successes of the Syrian army," said euronews's Denis Loctier reporting from Latakia as part of a media facility provided by the Russian and Syrian government.
On Tuesday (Nov 10) at least 23 people were killed and 60 wounded in two explosions in the city said to have been rocket fire.
The Syrian government called it a "terrorist attack". Rebels have in recent months targeted Latakia which lies in Syrian President Assad's western heartland.
Spokesman for Latakia's city government Ibrahim Khodr Al-Salem,condemned the shelling.
"We don't care what's the name of that particular group – for us they're all terrorists. Some of them are linked to Al-Qaida, others to other terror groups on Syrian territory." "And they're still getting support from Turkey and the Western countries, as well as Gulf states."
Earlier on the same day as the attack, Syrian military sources said government forces had broken a two year siege by ISIL militants on an airbase near Aleppo. It was the most high profile victory for Syrian troops since Russia launched an air campaign in support of President Bashar al-Assad.
Follow our correspondent embedded on a Russian airbase in Syria