Afghan Hazara mourn, demand government guarantee security
Comments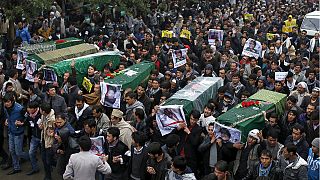 The streets of Kabul rang with cries of 'Down with terror!', as thousands of Afghan minority Hazara- filled the streets, angrily demanding the government act in the face of seven murders of their community by Taliban Islamist militants.
It started as a funeral — the coffins carrying the mutilated remains of two men, three women and two children.
Protester Essaq Ali said: "Killings like this have no place in any religion, including Islam. We want justice from the government. We are asking for security for all citizens."
The mainly Pashtun Sunni Taliban and al Qaeda killed the Shia Hazara by the thousands in the 1990s.
Murders and kidnappings this year have underlined the risk of general anarchy.
The demonstrators said people are being killed every day west of Kabul, where the Taliban control much of the countryside after most combat operations by international forces ended last year.