Syrian troops break two-year ISIL siege of northern airbase
Comments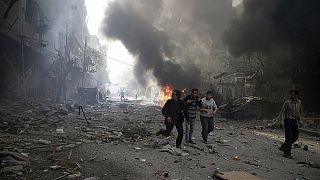 Syrian government forces claim to have broken a two-year siege by ISIL militants on an airbase in the north of the country.
A military source said the army had fought its way into Kweires airbase near Aleppo freeing hundreds of military personnel hold up inside since 2013.
State television broadcast live footage for the airbase of an emotional, fatigue-clad reporter announcing the news and played victory songs.
The British-based monitoring group, the Syrian Observatory for Human Rights confirmed an advance party had "broken the siege".
It's the highest profile victory for Syria's army since Russia began airstrikes in support of President Bashar-al Assad targeting what it calls "terrorists".
Meanwhile in Latakia Province more than 22 people were killed by rebel shellfire. Two blasts struck two separate areas of the city. Latakia lies in the heartland of President Assad's minority Alawite sect.
On the diplomatic front, Russia wants the Syrian government and opposition to agree to an 18 month constitutional reform process followed by presidential elections.
The eight point plan drawn up before international talks on Syria this week is likely to meet fierce criticism from the West as it does not rule out a role for President Assad.
Russia and Iran have been Assad's top allies during Syria's nearly five-year war. The United States, its Gulf allies and Turkey have said Assad must leave power for there to be peace.