Pope condemns recent Vatican leaks as 'a betrayal of trust'
Comments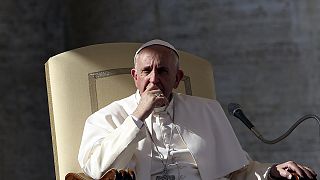 Pope Francis has used his weekly Sunday address to thousands of people gathered in St Peter's Square to condemn the recent leak of sensitive Vatican documents.
Making his first public comment about the scandal he said it had been a betrayal of trust but it won't distract him from making reforms.
"Stealing those documents was a crime. It was a deplorable act that does not help. I personally had asked for that study to be carried out and both I and my advisers were well acquainted with (the contents of) those documents and steps have been taken that were beginning to bear fruit, some of them even visible."
The documents are said to have been connected to a special commission or study set up by Francis in the months following his election in 2013 which was looking into financial and administrative reforms at the Vatican.
Last week two people suspected of the leaks were arrested. Lucio Angel Vallejo Balda is a high ranking cleric and Francesca Immacolata Chaouqui – a public relations expert. Both were members of the reform commission.
They allegedly gave documents, said to have been stolen from the pope's desk, to the authors of two new books which depict a Vatican plagued by mismanagement, greed and corruption and where Francis faces stiff resistance from the old guard to his reform agenda.
"Avarice" by Emiliano Fittipaldi and "Merchants in the Temple " by Gianluigi Nuzzi, draw in part on leaked documents reviving memories of the "Vatileaks" scandal of 2012 which preceded the shock resignation of former Pope Benedict the following year.
The reform commission completed its work last year and handed its report to the pope who subsequently made changes in Vatican administration, including the establishment of a new economic ministry and increased power for Vatican financial regulators.