Lukashenko's own 'eternal' Movember
Comments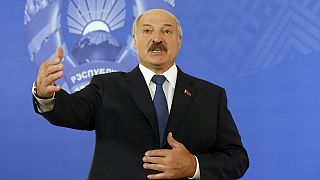 At the ballot box a few weeks ago, Lukashenko bore the confident smile of someone who knew how it would turn out. His youngest son was with him, the son (born in 2004) whom many believe he has already designated as his successor. The master of Belarus shows little sign of bowing out in any election.
Lukashenko said Belarus had fulfilled all commitments for free and fair elections. He won by a landslide 83.5 percent. Even if the elections were not seen as democratic by the OSCE, at least they were peaceful.
Political analyst Valeriy Karbalevic said: "I think that Lukashenko will stay in power till the end, at least that is what he would like… till the end of his life. He is afraid to entrust anyone else with this power. That is why he will hold on till the end."
In 1994, a Belarus that had seceded from the dissolved USSR three years earlier held its first national elections. It adopted a constitution rolling prime ministerial functions over to the president. Lukashenko won office, and has kept it, re-elected in 2001, 2006, 2010 and this year again.
Once dubbed 'Europe's last dictator' by the US, he brands his opponents 'enemies of the people'. His is the only European country not in the human rights defence body the Council of Europe.
Yet Lukashenko has undefecting allies in Russia and the third partner of the Eurasian Economic Union, Kazakhstan. Political and business interests ensure each says little about the others' internal matters.
The EU (the US as well) has imposed travel bans and transaction freezes against Lukashenko and his entourage to try to prompt progress. Pardoning political prisoners, mediating in the Ukraine crisis involving Russia and hosting talks between Kyiv and pro-Russian separatists have been enough to convince the EU to suspend its sanctions programme, dating from 2011 — some longer.
Lukashenko also considers his citizens' standard of living a point of honour — it has fallen this year. Belarus GDP shrank by 3.5 percent from January to August and the average monthly wage to 390 euros. The lifting of restrictions could boost the economy.
Video of the president helping to harvest potatoes shows him with his son Nikolai.