Campaigning ends ahead of historic parliamentary elections in Myanmar
Comments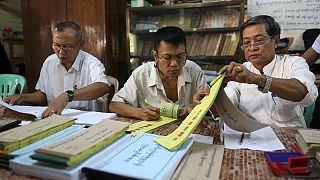 Campaigning has ended ahead of Myanmar's historic election. With the exception of some early voters, most people have two days of reflection ahead of Sunday's ballot (November 8).
These are the country's first openly-contested parliamentary
elections in 25 years, after five decades of military dictatorship. They are being closely monitored by European Election observers.
Some 30 million of the 51 million population are registered to vote. No opinion polls are available, but Nobel laureate and leader of the opposition National League for Democracy (NLD), Aung San Suu Kyi, is very popular.
Last credible election
Held in 1990, Myanmar's last credible election resulted in a landslide victory for the NLD. However, the military annulled the result and placed Suu Kyi in detention, then under house arrest, for a period of almost 20 years.
The NLD could win again on Sunday, but may need the help of some smaller ethnic groups to form a government.
Suu Kyi is barred from running for the presidency as her late spouse, with whom she had two sons, was foreign.
However, speaking on Thursday (November 5), the leader said she would be "above the president" if the NLD wins the election. How she would bypass the constitution remains unclear, although Suu Kyi did add:
"The constitution says nothing about somebody being above the president."
The NLD has, she said, already chosen someone who would take on the role. Their name remains under wraps for the time being.
Military influence
Myanmar, a former British colony, is still heavily under the influence of the military. In the first-past-the-post vote, 25 percent of the seats in the new parliament will be allotted to representatives of the armed forces.
The NLD would, then, need to win by a landslide, securing two thirds of the remaining seats for an outright majority.
Suu Kyi has made claims of repeated election law violations by the military-backed ruling party.
Myanmar's new government won't take effect until February, 2016. The NLD leader labelled the gap between the vote and start date "a cause for concern."
Muslim concern
More than 6,000 candidates from 91 national and ethnic parties have campaigned. Yet, only a handful of Muslim candidates are running in the election, despite the religious body making up five percent of the population.
The two main parties, which includes the NLD, have not put forward a single Muslim candidate. This is believed to be at least partially due to the toxic, anti-Muslim sentiment which radical Buddhists have been stoking.
Analysts warn there could be a rise in tensions following the vote. The radical Buddhist group Ma Ba Tha has sharply criticised the NLD for its opposition to laws seen as anti-Muslim.