Black box data shows explosion downed Russian plane say experts
Comments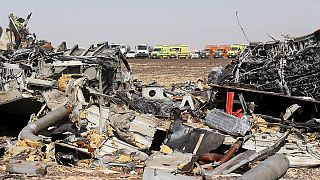 It seems the theory the Russian airliner crash in Egypt was no accident is the right one. Experts say the black box data they have been able to retrieve points to an explosion and a probable bomb on board the plane. It is a blow to the Russians who did not want to admit their bombing campaign in Syria was costing them Russian lives.
"The European experts who have analysed these black boxes confirm that is was not an accident. The black boxes have spoken. There are two of them in a plane: one that tapes the conversation of the pilots confirms that there was an explosion on board and the second black box that tapes the parameters of the flight confirms that this explosion was not an accident. There is no sign of a technical default or accident during the first minutes of the flight. Everything is fine during the first 24 minutes, the pilots talk, the plane reaches its cruising altitude and suddenly in a fraction of a second, nothing, a black flash, no parameter, no conservations any more," said expert Arnaud Comte on French TV.
It is also terrible news for Egypt which relies on tourism earnings. The Islamic State branch that operates in the Sinai has been getting stronger but the fact it seems to have been able to penetrate airport security is distressing.