Mexico court ruling sparks marijuana legalisation hopes
Comments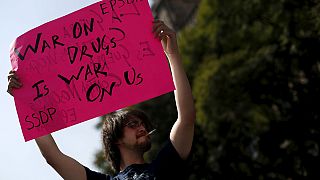 In Mexico, supporters of drug reform have been celebrating a Supreme Court decision that could lead to the legalisation of marijuana.
Ruling on a case first brought in 2013 by an advocacy group that health regulators stopped from growing plants for private consumption, the court voted 4-1 that prohibiting people from cultivating the drug for personal use was unconstitutional.
Four more consecutive decisions of the same kind would set a legal precedent and force the government to review the law.
Proponents say it is the best way to fight drug-related crime and a rising prison population.
Mexico's President Enrique Pena Nieto, who has so far been skeptical about the merits of liberalising drug laws, urged caution.
"This ruling will open the door to a broad debate on the best way to regulate marijuana consumption. We need to establish measures so people clearly know which are or aren't the adverse effects of marijuana use," he said.
Pena Nieto also added that raids to destroy illegal marijuana crops will continue apace.
As deaths from drug violence increase, political pressure has mounted on Mexico to follow the example of Uruguay and some US states to soften its stance.
Marijuana, along with cocaine, heroin and crystal meth, has been a major source of income for cartels that authorities say generate billions of dollars worth of sales annually.