Volkswagen CEO under pressure to explain Porsche emissions claims
Comments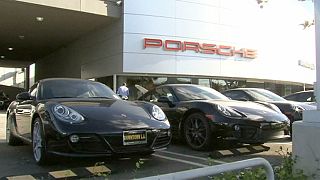 Volkswagen's new boss is under pressure to explain claims by US regulators that they've found more cars equipped to cheat emissions tests.
What is more, they include Porsches, the brand previously run by Matthias Mueller, who took over as VW's chief executive in late September in the wake of the scandal.
The US Environmental Protection Agency issued a second notice of violation to the Volkswagen group, saying the software was installed in 3.0 litre diesel engines, mostly in Porsche and Audi vehicles.
The models affected include the 2014 VW Touareg, the 2015 Porsche Cayenne and several Audis.
VW has denied the claims in a statement, saying it is co-operating with the EPA to clarify the matter.
"VW's position is that they've put everything known so far on the table and there are no further models affected. If this is true then one must say that it's ok. But if the EPA is right here, that even the premium brands Audi and Porsche are affected, then one must say that Volkswagen's crisis management is certainly still not good," said Juergen Pieper of Metzler Bank, a car industry analyst in Frankfurt.
The regulator says the latest inquiry concerns at least 10,000 vehicles sold in the US.
VW has previously admitted installing so-called defeat devices in 11 million cars worldwide.
German Chancellor Angela Merkel reacted to the latest allegations as she addressed the Federation of German Industries in Berlin.
"'Made in Germany' remains, thanks to innovation, a trademark and a seal of quality, and the events at Volkswagen changes nothing about that, I want to stress that again. But they also show that we must also insist here on transparency and a quick clean-up," she said.
Reports say VW's supervisory board is to meet next week to consider the scandal's financial implications.
The 6.7 billion euros set aside to make amends have already hit the carmaker in the pocket: plunging the group into the red in its recent quarterly results.
Some analysts have said the final bill could reach as much as 35 billion euros in regulatory fines, lawsuits and vehicle refits.
Statement on the announcement by the United States Environmental Protection Agency (EPA): https://t.co/SFZfGapPxf

— Volkswagen (@Volkswagen) 3 Novembre 2015
Battered VW shares drop further as scandal widens https://t.co/TUL015Ld26

— Reuters Business (@ReutersBiz) November 3, 2015