Osborne takes UK's EU reform demands to Berlin
Comments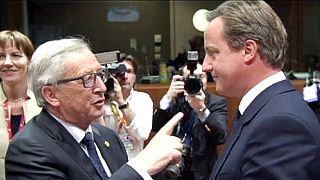 Taking his message to Germany on Tuesday, Britain's finance minister has outlined reforms sought by the UK ahead of its referendum on ongoing EU membership.
A key demand outlined to government and business leaders in Berlin was for guarantees that the UK won't be penalised for not adopting the euro single currency.
"We, in Britain, can support you in the euro zone make the lasting changes you need to see strengthening the euro. In return, you can help us make the changes we need to safeguard the interests of those economies who are not in the euro zone," Osborne told an event sponsored by the Federation of German Industry (BDI).
He has made protection for EU members outside the single currency area a priority for the renegotiation – to defend Britain's financial services which account for some 8 percent of its economy.
Setting out the deal he proposed making with Germany and other euro zone countries, Osborne said the "inexorable logic" of monetary union would mean the EU's treaties would have to be changed to support closer economic union between its members.
"When it comes to the relationship between those who use the euro and those who do not, here is the deal: you get a euro zone that works better, we get a guarantee that euro zone decisions and costs are not imposed on us," he said.
"You get a stronger euro. We make sure that the voice of the pound is heard when it should be. A deal that is written into law, a deal that is good for Britain and a deal that is good for Germany too. The result will be a better European Union."
Osborne is seen as the frontrunner to succeed David Cameron whose government is under increasing pressure in its defence of the UK staying in the bloc, not least from eurosceptics in his own ruling Conservative Party.
Cameron launched his most open defence to date of Britain staying in the EU last week by telling eurosceptics that the country should not try to emulate outsider Norway which pays the same amount to the bloc but is not a member.
David Cameron argues against Britain having Norway-style relationship with EU https://t.co/eJHfDRu0Fipic.twitter.com/98TQ5KXH6P

— Bloomberg Business (@business) 28 Octobre 2015
German Chancellor Angela Merkel has said she wants Britain to remain a member of the EU, telling the BDI meeting: "We will do what we can so that Britain can stay".
But she said in the end it would be up to Britons to decide.