Pro-Kurdish HDP scrapes back in to parliament
Comments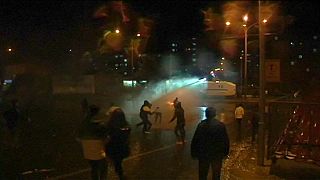 Turkish police fired water cannons against protesters in the mainly Kurdish city of Diyarbakir after Sunday's election which saw President Recep Tayyip Erdogan's hold on the country tighten and the main pro-Kurdish party almost voted out of parliament.
The HDP only just scraped passed the 10% threshhold needed to claim parliamentary seats. It means the People's Democratic Party (HDP) will have 59 seats down from 80 in last June's election.
One of the party's co-leaders, Figen Yuksekdag said the election outcome was the result of a "deliberate policy of polarisation by President Erdogan", while the other co-leader Selahattin Demirtas launched a verbal attack on the AK party.
"Turkish people do not celebrate the results of the election cheerfully, although a political party has received almost 50 percent of the votes. Why? Because a significant number of the people are living in fear. Everybody is uneasy over how far can the ruling party go."
Earlier despite the HDP's poor perfomance some "supporters"öhttp://www.thestar.com.my/News/World/2015/11/02/Tight-security-strong-turnout-in-Turkeys-battlescarred-Kurdish-southeast/ did come out and celebrated hoping that stalled peace stalks between Kurdish militants and the government would resume.
President Erdogan accuses the HDP of having links to the militant PKK, something which the party denies.