Markets in Turkey surge after AK Party's election victory
Comments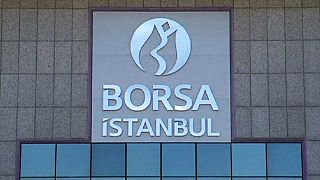 Markets in Turkey have surged after the ruling AK Party's clear victory in the country's parliamentary election.
By early afternoon the main index in Istanbul had risen by 5.4 percent and the lira was on track for its biggest one-day gain in seven years.
One analyst said the result was the best possible outcome for markets which had long been yearning for a period of political stability.
But in western Europe the reaction was not as positive.
"I think the stock market would have wanted a different result, a coalition in Turkey. If they now try to fundamentally change the constitution, that won't be to the stock market's taste. We also know that Turkey is incredibly important in tackling the refugee crisis. Most would have preferred to see a coalition government," said Robert Halver, head of capital markets analysis at Baader Bank in Frankfurt.
Shares in companies linked to the government's opponents fell on Monday.
Analysts will be scrutinising how the conservatives – who had lost much economic credibility in recent years – intend to boost the sluggish economy and tackle inflation which has reached an annual rate of seven percent.