And also... Modern art is rubbish; Russian police pull over speeding hearse full of caviar; Flower power in Chile's Desert
Comments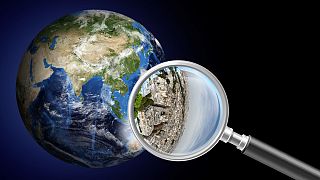 Every Friday, journalists from euronews' various language teams choose a selection of stories from Europe and beyond, which did not reach the international headlines.
Italy: that's modern art, not rubbish!
Itay's Museion Bozen-Bolzano museum has apologised to contemporary art duo Goldschmied & Chiari, after their installation was thrown away by cleaners who thought that it was trash.
"This morning cleaning staff removed the recently inaugurated installation, 'Dove Andiamo a Ballare Questa Sera?'' ('Where shall we go dancing tonight?')" the museum wrote on Facebook on 24 October.
The gallery pledged to restore the piece as soon as possible.
Before
İtalya'da Goldschmied ve Chiari'ye ait bu çalışma, müzedeki temizlik görevlisi tarafından çöp sanılarak temizlendi. pic.twitter.com/bh5O8AJT6c

—

SANATATAK

(@sanatatak) octubre 27, 2015
After
O que terá acontecido ao trabalho de Goldschmied & Chiari? https://t.co/hj54dsjSjHpic.twitter.com/iRqMhbdDZw

— Ricardo Durand Ramos (@Ricardo_Durand) octubre 27, 2015
The artwork has been reconstructed. Or redestructed
Russia: speeding hearse full of caviar
Police in Russia's far east pulled over a hearse speeding on a motorway, only to discover half a tonne of caviar stashed inside.
When police officers asked the driver of the vehicle, which was speeding on a road near Khabarovsk, not far from the Chinese border – to open the car they found plastic containers of caviar hidden under the wreaths lying next to a casket.
More caviar was found inside the casket, which did not contain a body.
Greece-Italy: shock at 24,000 euro TV interview with Varoufakis
Italian politicians have expressed outrage after it emerged that public broadcaster RAI paid Greece's flamboyant former finance minister Yanis Varoufakis 24,000 euros for a 22-minute interview.
The fee – equivalent to more than 1,000 euros a minute – was paid to Varoufakis for an appearance on RAI 3 on 27 September, along with a first-class plane ticket.
Varoufakis has said he is releasing details of his earnings for recent media and public speaking gigs to dispel claims that he has been on a "self-enrichment drive" since resigning from the Greek government in July.
Italy's RAI paid €24,000 (post-tax) to Yanis Varoufakis for a TV interview. BBC paid zero (h/t OGiannino</a>) <a href="https://t.co/BYornSWBjy">pic.twitter.com/BYornSWBjy</a></p>&mdash; Ferdinando Giugliano (FerdiGiugliano) octubre 28, 2015
Flower carpet covers Atacama Desert in Chile
Usually it's one of the driest places in the world. But this week, the Atacama Desert's vast expanses of salt were covered with a multitude of flowers .
In less than 12 hours, the equivalent of seven years of rainfall, due to the El Nino weather phenomenon, hit the desert giving birth to this magnificent spectacle of nature.
US airforce jets scrambled after military blimp wreaks havoc
Thousands of residents had their power cut when a US army airship broke free from its moorings wreaking havoc as it floated from Maryland to Pennsylvania.
Two F-16 jets were scrambled to keep watch as it went AWOL in civil aviation space after coming unhooked from its base at Aberdeen Proving Ground, an army facility north of Baltimore.
The blimp eventually landed in a field in Pennsylvania, about 240 kilometres north of its starting point. At one point, 30,000 residents in the state were without power, the governor said.
Breakaway blimp thrills Twitter – USATODAY: xmlns="https://t.co/hrA4O7Edji" class="no-js" lang="en" ite… https://t.co/FMz2PATUFI

— Web Traffic &

SEO

(@web_traffic_seo) octubre 28, 2015
SOURCES
Italy: that's modern art, not rubbish! – altoadige.gelocal.it
Russia: speeding hearse full of caviar – lenta.ru
Greece-Italy: shock at 24,000 euro TV interview with Varoufakis – ekathimerini.com
Flower carpet covers Atacama Desert in Chile – informe21.com
US airforce jets scrambled after military blimp wreaks havoc – www.usatoday.com