Ivory Coast: Ouattara celebrates
Comments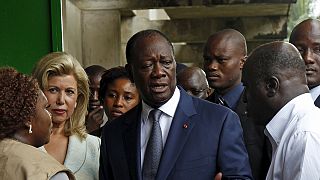 Alessane Ouattara has won a second five-year term as president of Ivory Coast.
The 73-year-old was re-elected easily in the first round with almost 84 percent of the vote.
The 55% turnout was sharply down, however, compared to 80% in 2010.
Ivory Coast President Ouattara wins re-election https://t.co/l1n2gEETr0 via todayng</a> <a href="https://t.co/C6sSwbHynW">pic.twitter.com/C6sSwbHynW</a></p>&mdash; Nigeria Newsdesk (NigeriaNewsdesk) October 28, 2015
Election officials are glad that the vote passed off peacefully.
Thousands died in 2010
Dispute over the last poll five years ago sparked violence that killed thousands in the West African economic powerhouse.
The incumbent, Laurent Gbagbo, rejected the result.
Laurent Gbagbo & Charles Blé Goudé #ICC case: Trial opens November 10, 2015 http://t.co/58qb1WwBzv via IntlCrimCourt</a> <a href="http://t.co/jVSaZZAPaR">pic.twitter.com/jVSaZZAPaR</a></p>&mdash; Louis Jadwong (Jadwong) May 7, 2015
Gbagbo is now in The Hague pending trial at the International Criminal Court for crimes against humanity.
A free and fair election?
Several candidates withdrew from this latest poll, saying it was not free and fair.
Observers give Ivorian vote thumbs-up in boost to Ouattara https://t.co/8MzLKtqIKG

— Burkina Faso Hub (@BurkinaFasoHub) October 28, 2015
However, on Monday US election observers said the election was credible.