Markets fret over Polish election winners' bank tax plan
Comments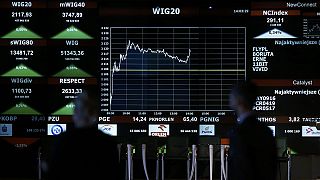 Poland's election result has brought a jittery reaction on the markets; the zloty and bank stocks falling slightly.
The victorious Law and Justice party wants to pump 350 billion zlotys (over 80 billion euros) into the economy over six years to boost economic growth – and to tax banks' assets at a rate of 0.39 percent.
The plan unnerved financial markets last week and sent the zloty to a nine-month low against the euro.
"The banking sector is saying that this will slash their profits, looking at predictions for this year, at least by half if this 0.39 tax would be imposed. And this will probably hurt the mortgage sector and it will slow down credit action in Poland," said Andrzej Bobinski, an economic analyst at the think tank Polityka Insight.
Polish banks already face having to finance recent measures which allow more than half a million mortgage holders who took out loans in Swiss francs to convert them to zlotys.
Many people have struggled to keep up repayments after a surge in the franc when Switzerland scrapped its policy in January of capping the currency against the euro.