Little sign the public will heed the IARC's meat warning
Comments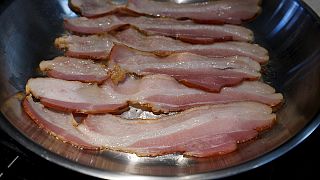 Public reactions to the IARC's report have been mostly dismissive, with people in general believing that as long as their diets stay balanced they will stay healthy, and that they will not be changing their habits.
"No, I don't I'll change my diet. Otherwise, I guess I wouldn't eat anything else. As long as you have a balanced sense of food, then to me it's ok. I will still eat meat whatever decision is taken about cancer or not," said one Frenchman.
Retailers in the meat trade are of course insisting the report is baloney, and not mincing their words.
"I don't think I will modify my food habit, also because I have eaten processed meat for a lifetime, as I think many other people have done it, and nothing happened," said one Italian deli owner.
In Germany, the land of the sausage, one American tourist said he was cutting back, but when on holiday…
"I'm trying to cut down just a little bit, just in case. I think it's the healthier choice for me. I noticed that my body has been feeling a lot better with the less meat I eat but since I'm in Germany, it's my first time eating Currywurst so why not, you know. All in balance, all in balance."
And in the city of the Full English breakfast one woman on Brick lane in London said she didn't give a sausage about the warning.
"I think food awareness in general is really important but that's possibly a step too far. I mean every week you know…tomatoes give you cancer, you know, there's a new fad, there's a new alert."