European relations in the spotlight as Poland votes in general election
Comments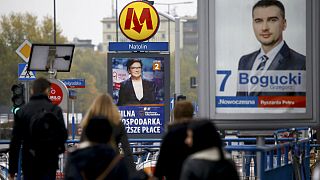 Poland votes in a general election on Sunday with implications beyond its borders.
While not standing himself, Jaroslaw Kaczynski's conservative, eurosceptic Law and Justice Party is tipped to win, though perhaps not with an outright majority.
Its candidate for Prime Minister is Beata Szydlo but critics believe Kacynski – twin brother of Poland's late president Lech who died in a plane crash five years ago – would be the back seat driver.
His supporters insist he offers Poland's only chance to protect its traditional Catholic identity and national sovereignty.
They hope to unseat Ewa Kopacz whose centrist Civic Platform party has governed since 2007.
Poland's upcoming general elections making history by having 3 women campaigning to lead the nation: https://t.co/BZaUbKQDrM

— The Associated Press (@AP) 22 Octobre 2015
She has made a deal with Brussels to take in some 7,000 refugees – something that would not have happened with Kaczynski at the controls.
The arrival of Muslim refugees would, he said, threaten Poland's Catholic values and therefore they should not be admitted.
"We should help (the refugees) but in a safe way, financially," he said.
For Kaczynski's critics he is a xenophobic autocrat who demands absolute loyalty from his supporters and threatens to limit personal freedoms in Poland in the name of preserving national unity and conservative values.
Kopacz, does not mince her words: "The Civic Platform is here so that we build a dam to stop those who want to turn Poland into a European museum of fanaticism."
United Left leader Barbara Nowacka has said an anti-Law and Justice coalition may be needed to defend Poland's pro-European course and stop Kaczynski from implementing his policies.