Maersk downgrades profit outlook citing global trade slowdown
Comments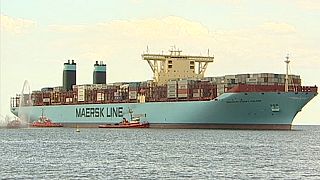 The Danish shipping giant Maersk has downgraded its profit outlook for the year by $600 million (540 million euros) to $3.4 billion (3.0 billion euros), citing market deterioration.
The Copenhagen-based group which controls the world's largest container shipping company Maersk Line, said market conditions worldwide had been weaker than expected.
A mix of overcapacity, low demand and aggressive pricing is depressing profits in the industry that carries up to 90 percent of global trade.
Maersk's larger-than-expected downgrade comes even though it's taken steps in recent years to ensure a "cost-effective and resilient operation".