ECB hints it may expand stimulus programme
Comments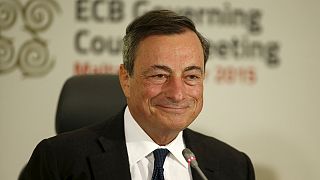 The European Central Bank meeting in Malta has hinted that it may expand its stimulus programme in December, while its chief has called on governments to do more to boost the eurozone's tentative recovery.
The ECB left interest rates and its money-printing programme unchanged on Thursday.
The bank's President Mario Draghi told a news conference that the eurozone's economy still faced plenty of negative risks.
"While euro area domestic demand remains resilient, concerns over growth prospects in emerging markets – and possible repercussions for the economy from developments in financial and commodity markets – continue to signal downside risks to the outlook for growth and inflation," the ECB's President Mario Draghi said.
Draghi: Monetary policy shouldn't be the only game in town

—

ECB

(@ecb) October 22, 2015
Despite the ECB's attempts to bring inflation up via quantitative easing, consumer prices fell in September by 0.1 percent.
Annual growth varies across the eurozone, averaging 1.2 percent.
Draghi said the large gap between countries reflected efforts made to make economies flexible and reduce debts.
The central bank's economists will provide new forecasts for growth and inflation at its final meeting of the year.
Hinting at a possible expansion of the ECB's bond-buying programme, Draghi added that a range of measures were being considered to boost growth and inflation.
"Monetary policy should not be the only game in town," the president said. "All countries should strive for growth-friendly fiscal policies."
ECB Governing Council in Malta. Press conference at 14:30 CEThttps://t.co/yLTyRIRi76https://t.co/BipeUaECfQpic.twitter.com/TcCgKFnIde

—

ECB

(@ecb) October 22, 2015