Investors hope Turkey's crunch election will revive growth and economic reform
Comments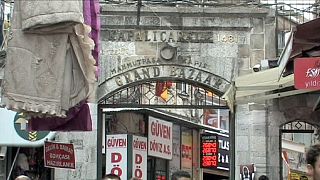 Investors are hoping that whoever wins Turkey's upcoming election will revive the country's once-admired pace of growth and economic reform.
The poll, on 1 November, will be Turkey's fourth in just over 18 months.
The cycle of voting has fueled uncertainty. Investors have reduced their exposure to the country and equity and bond holdings have fallen.
President Tayyip Erdogan's pressure on the central bank to cut interest rates has also tarnished the credibility of Turkey's economic management team.
Euronews reporter Bora Bayraktar asked one Turkey-based analyst for his take on the country's economic outlook.
"We're in a situation of economic stagnation. Although there's slim growth, our economic performance has declined. There's not enough growth," said economist Arda Tunca.
"The unfortunate incidents at our southern borders are important.
"All of the world is focused on Syria and Syria is our neighbour. All of the developments there have also affected Turkish politics recently.
"Turkey is facing a refugee issue, which is costing around eight billion dollars. That's how much we've spent as of today. We have two million refugees.
"For these reasons, Turkey pays a heavy price. That's why I say we are more affected by the incidents around us.
"We should also mention the situation in Russia, the global economic stagnation, the problem of no growth. Turkey has been affected by all of these factors."
Despite populist pledges, senior members of both Turkey's AK Party and the opposition CHP acknowledge that what the country really needs are measures to tackle high inflation, rising unemployment and the slowing growth.
Economists says there has to be decisive action – to set Turkey on a path of brighter economic fortunes.
"Turkey severely needs a government, a coalition or whatever. A government which will take a vote of confidence from the parliament, which will be able to draw a road map and take strong economic decisions," said Tunca.
In the longer term, economists say Turkey needs to increase its savings rate, improve the quality of its education and reform the judicial system. Changes they claim will boost investor confidence and help avoid what's described as a "middle-income trap."