French travellers cut road and rail links near Grenoble to demand prison release for funeral
Comments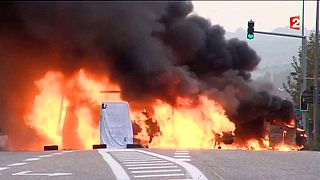 A group of around 30 travellers raided a scrapyard and blocked a road in the French alps in Moirans near Grenoble on Tuesday, setting the wrecks alight, to demand the authorities release a 17-year-old and his cousin from a nearby prison to attend the funeral of his brother.
Incidents de Moirans : "la situation est sous contrôle" https://t.co/EQXLujzNdopic.twitter.com/r5gFaZ8kDf

— Europe 1 (@Europe1) 20. Oktober 2015
He had died at the weekend when a stolen car with his brother driving and two other passengers on board crashed while fleeing a burglary.
At the same time a riot broke out in the prison in Aiton where the men were detained, both protests coming after the request to attend the funeral was turned down.
Both protests have now been ended by the police, but not before railway traffic on the Grenoble line was cut.
In August another group of travellers tried a similar tactic on the motorway at Roye near Paris for the same reasons. To ease the pressure on returning summer holidaymakers the authorities gave in to their demands.
Not this time. French Prime Minister Manuel Walls has called for "republican order" to be respected.
Face aux violences inadmissibles commises à #Moirans, une seule réponse : la fermeté et le rétablissement de l'ordre républicain. MV

— Manuel Valls (@manuelvalls) 20. Oktober 2015