Refugees rush Austrian border in desperation to leave Slovenia
Comments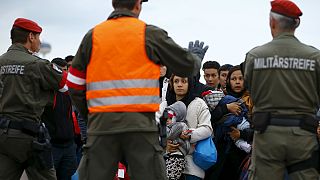 The Austrian authorities say around 4,500 refugees overran their border with Slovenia at Spielfeld on Tuesday afternoon.
It took the border guards completely by surprise. Until then they had been letting groups of one of two hundred people through at a time, but it seems that after days of being herded about in the rain and cold, the refugees patience snapped.
In total more than 5.500 asylum seekers crossed the border at Spielfeld this Tuesday.
The Austrians are trying to send them by train and by bus to other cities like Klagenfurt and Graz.
The Austrians are also unsure if Germany's resolve to keep its border open and accept more people is weakening, and if fences may start going up there.
"We expect more people to arrive in Austria. We have made arrangements. At the moment we are erecting a new tent. I thought we were well prepared to handle the new rush," said police spokesman Joachim Huber.
At least at the border those preparations were found wanting on Tuesday. And as fast as new reception centers go up the numbers of arrivals increases. With increasingly governments and now the weather against them the message has got through that it is now or never for the refugees to make it to safety.