Marine Le Pen appears in French court on charge of inciting racial hatred
Comments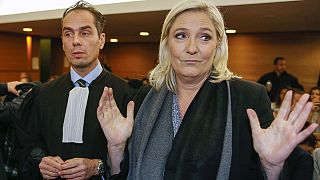 Marine Le Pen has appeared in court in France, accused of inciting racial hatred.
The French National Front leader denies the charge.
Avec notre Présidente MLP_officiel</a> à <a href="https://twitter.com/hashtag/Lyon?src=hash">#Lyon</a>, que je suis venu soutenir au Tribunal. <a href="https://twitter.com/hashtag/JeSuisMarine?src=hash">#JeSuisMarine</a> <a href="https://t.co/sRVMRKzODF">pic.twitter.com/sRVMRKzODF</a></p>&mdash; Christophe Boudot (ChBoudot) October 20, 2015
Prosecutors in Lyon have called for an acquittal, saying she was referring to a small group of people and not the entire Muslim community.
Marine Le Pen compared Muslim street prayers to the Nazi Occupation and will now face trial: http://t.co/wu9WAYPkChpic.twitter.com/NTOQHFpAqr

— The Local France (@TheLocalFrance) September 22, 2015
Marine Le Pen made the comments about Muslim street prayers in 2010.
"Street prayers are illegal, they are a way to take hold of a territory to impose a religious law which is contrary to the law of the Republic, contrary to secularism." she told reporters outside the court in Lyon.
If found guilty, Marine Le Pen potentially faces a year in jail and a fine of 45,000 euros.
Judges will rule on the case in December.
MLP_officiel</a> jugée à Lyon: la <a href="https://twitter.com/_LICRA_">_LICRA_ va se constituer partie civile http://t.co/0E30AW1qPx#AFP

—

AFP

Lyon (@AFPLyon) October 19, 2015
Sabrina Goldman is the lawyer for the International League against Racism and Anti-semitism (LICRA): "When she compares prayers in the streets to the German occupation, Marine Le Pen is in fact summoning up hatred. She is laying the Muslim community open to victimisation, in the usual style that the National Front employs, via fantasies, fear, waving the red flag of extremism, and this rebounds on the whole Muslim community."
Euronews Correspondent Oliviér Peguy was in court: "Marine Le Pen only made a short appearance in court but it was enough to get her point of view across and get media coverage with only six weeks to go until the regional elections, a vote which the polls suggest will end in a positive result for her party."