Turnout low on day one of Egypt poll
Comments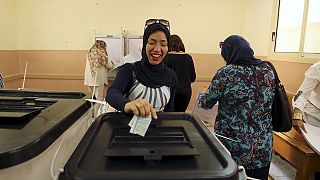 Ballots boxes were tightly secured at the end of day one of Egypt's parliamentary elections.
Voting continues today (Monday Oct 19) in this the first phase to elect 596 MPs for the lower House of Representatives. But while President Abdel Fattah al-Sisi has hailed it as a milestone in the road to democracy, critics say its a sham.
Egypt has had no parliament since 2012 when a court dissolved the democratically.elected main chamber, then dominated by the Muslim Brotherhood, reversing a key accomplishment of the 2011 uprising that toppled Hosni Mubarak.
In 2013 Sisi, then army chief, over threw Egypt's first freely elected president , the Muslim Brotherhood's Mohamed Mursi, then launched the fiercest crackdown on dissent in Egypt's moder history.
With the Brotherhood now banned and an alliance of socialist opposition parties that had been due to contest having pulled out, it's left the field dominated by Sisi loyalists.
Officially Sunday's turnout was said to have been around 48% but some observers say it was more like 10%.
Either way state workers are being given a half-day holiday on day two, apparently hoping to encourage them to vote.
One man said it had been a beautiful event. " We will not always beg for help. We want to build for ourselves. We do not want to ask for money and knock on doors. We have beautiful young people. People have to work."
But the young appear disillusioned with the democratic process. One young man told of sleeping in Tahrir Square in central Cairo during the 2011 uprising against President Mubarak, but that nothing had really changed.
Another was asked if he was going to vote:
"Of course I will not vote, none of these candidates will benefit me. All previous MPs gave many promises which never kept so I will not bother myself. I will not go, because even if I did, it's useless," he said.
Security was tight in a country facing an Islamist insurgency in addition to unemployment and widespread poverty.
While the new parliament appears to have broad powers, critics say it will probably act as a rubber stamp to the president as most of those who will be elected will be his supporters.
Voter apathy and frustration characterize Egypt's parliamentary election, first under el-Sissi: http://t.co/5jBXmvhdlt

— The Associated Press (@AP) October 19, 2015