Syria and allies Iran and Russia prepare for Aleppo offensive
Comments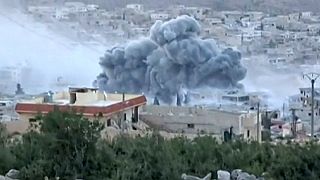 Russian jets and Iranian soldiers are said to be getting ready to support a major Syrian army ground offensive in the northwest of the country targeting rebels in Aleppo.
The Kremlin says that two weeks of Russian strikes have been targeting the so-called Islamic State (ISIL)..
A group monitoring the war said ISIL fighters took partial control of two towns north of Aleppo before being pushed back.
Hama offensive in progress
Meanwhile in Hama province the Sryian army and its allies Iran and Russia have been trying to reverse rebel gains made over the summer.
Senior regional officials told Reuters news agency that Iran has sent thousands of additional troops in recent days to bolster the Hama offensive and to prepare for the one in Aleppo.
The Russian defence ministry said its warplanes made 41 sorties in the last 24 hours and attacked 40 ISIL targets.