Investors turn to precious metals as safe havens
Comments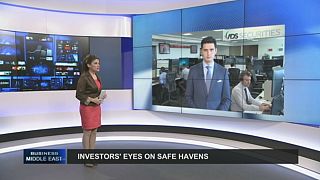 Welcome to Business Middle East. This week we are taking a look at commodity prices.
The current time looks like a stabilisation with a slight positive momentum
There is a ray of hope for the price of oil and precious metals. Since the beginning of this month there have been some significant increases. After disappointing results on the stock market in the third quarter, it seems that investors are looking to precious metals as safe havens.
The price of gold has achieved the best quarterly performance since the first quarter of last year but surprisingly the price of silver has the largest weekly rise and the best opening level for the fourth quarter since 2013. How has the commodity market been trending since the beginning of October? Let's take a look.
Sudden hike of commodities
Signs of recovery began to emerge in commodity prices. Oil prices have
risen since the beginning of October and finished last week with an increase
of 8% – the largest increase in 6 weeks.
This is despite an unexpected increase in crude oil inventories in the United
States, Brent crude has risen since the beginning of October and has
increased by 8.85% and WTI rose by 10.07%.
The hike is due to the decline of the dollar as well as Russia and Saudi Arabia
consultations on oil last week. Forecaster, PIRA Energy Group, expect that oil prices will rise to 75 dollars a barrel over the next two years.
There have been significant increases in the price of precious metals.
Between the 1st October and last week the price of gold has increased by
about 4%.
Gold was able to erase most of the losses during the month of September.
On Friday, the ounce price rose to 1159 dollars after the Fed
postponed a hike in interest rates, and because of the slowdown in the Chinese
economy. These factors have prompted investors to turn to precious metals
to reduce the risk of trading volumes on the stock market, especially in the
current period.
Silver has also benefited since the beginning of the fourth quarter and
achieved unexpected gains.
The boost in silver prices has been recorded as the best performance since
the end of the third quarter of 2013. With gains of about 9% up to last Friday,
silver has had the best opening for the fourth quarter. It is the only metal that
has wiped out all year losses and gains of about 2%.
Oil and precious metals prices
To gain further insight on oil and precious metals prices, joining us as usual is Nour Eldeen Al Hammoury, chief market strategist at ADS securities
euronews:
"Hello Nour. There has been a remarkable hike in oil prices, especially last week, and this is in spite of the rise in US inventories. Is it possible to say that a price recovery has begun?"
Nour Eldeen Al Hammoury:
"Yes, as we noted before in August, there were signs of an upcoming stabilisation period, as most of the negative fundamentals had been priced in already. Moreover, the Gold to Oil ratio showed a notable sign for this stabilisation before any other indicators. In addition to that, we were looking for a weaker dollar due to the Federal Reserve policy, leading to oil rallying recently. In the meantime we still need to monitor further signs in the coming period, but the current time looks like a stabilisation with a slight positive momentum, due to the geopolitical tensions in the Middle East, in addition to the possibility of holding a meeting for producers out of OPEC to discuss the current prices."
euronews:
"Gold prices last week were supported by the FED decision to postpone a rise in interest rates and this trend has been noticed towards hedge funds in precious metals. Could these trends continue or are they just for the current period?"
Nour Eldeen Al Hammoury:
"During any uncertain period, there is always a shift to gold. This is what happened recently from some hedge funds after they suffered a notable loss due to the decline in the global markets a few weeks ago. This is in addition to the uncertainty towards the Federal Reserve policy, which also led to a notable rally in safe haven assets including Gold. Moreover, the latest Commitment of Traders Report by the CFTC in the United States showed that long contracts increased by 9% last week. This shows that a notable number of traders and investors have shifted to safe haven assets. In the meantime, if this uncertainty continues, we might see further gains ahead."
euronews:
"Let's talk about silver. If the Gold to Silver ratio is true, how can silver continue to gain future profits?"
Nour Eldeen Al Hammoury:
"Looking back at the history of the Gold-to-Silver ratio, each time the ratio has reached the 77 to 88 levels, Silver has bottomed out and had a notable rally. This is the case of this ratio and its relationship with silver since the 1980's. Last week the ratio reached 77 and fell back to 71, leading Silver to rise by more than 11% in the next few days. Therefore if silver manages to gain further in the coming weeks, and if the ratio continues to trade below the 80 level, we can say that Silver has bottomed out and further gains can be envisaged in the future."
euronews:
"What are the levels traders should be looking at now?"
Nour Eldeen Al Hammoury:
"In the short term, many traders and investors are talking about 17 and 18 dollars per ounce as these two levels represent a solid resistance area, which may lead to a short term downward decline before rising further; but this is if the Gold to Silver ratio is right."
If you have any questions about this story, let us know on social networks. You can follow @DaleenHassan or @NourHammoury on Twitter or use #BusinessMiddleEast