Turkey buries its dead after Saturday's deadly terror attack
Comments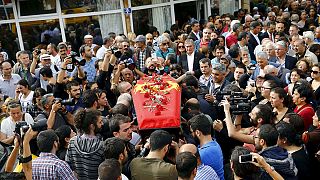 As Turkey continues to bury its dead after Saturday's double suicide bombing , people want to know who to blame.
The government is targeting ISIL militants in its investigation – a security source said the attack bears a similarity to a July suicide bombing in Suruc blamed on radical Islamists.
However some analysts and journalists such as Enver Sezgin of the Taraf Daily think those responsible want to divide the country and drag it into civil war.
"It is possible (that it was ISIL). But I think we should not limit this possiblity to the jihadists. Because this was a large scale attack and I believe that only bigger powers can organise, benefit from the consequences of such an attack. ISLS can be used by others as they were used in the past. But I think this plan was prepared somewhere else.
Prime Minister Ahmet Davutoglu may be focusing on ISIL after the blasts which killed up to 128 people but others like the leader of the main opposition party (CHP) Kemal Kilicdaroglu is blaming the government for the massive security and intelligence failure.
"I think if both ministers (Interior and Justice) respect the people of this country, respect the victims, their relatives and their job they should resign immediately. This is their political responsibility."
Meanwhile there was unrest during demonstrations at a pro-Kurdish rally in Diyarbakir.
Many in the predominantly Kurdish region are accusing Turkey's president of stirring up nationalist sentiment by his pursuit of a military campaign against Kurdish militants.