Prime suspects for Turkey twin bombing silent about attack
Comments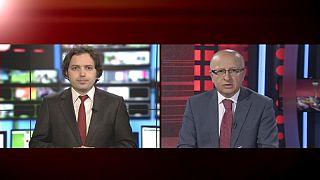 Two explosions, seconds apart, struck a peace rally of pro-Kurdish activists and civic groups in Turkey's capital city Ankara on Saturday.
Opponents of Turkish President Recep Tayyip Erdogan blamed him for the attack.
The country's prime minister said it was intended to influence the outcome of next month's elections.
Thousands of mourners have attended funerals for several victims of the explosions, waving flags and chanting anti-government slogans.
The pro-Kurdish HDP party puts the death toll from the bombings at 128 and said it had identified all but eight of the bodies. The prime minister's office has said 97 were killed.
Nationalist anger towards Kurds had been increasing after recent attacks on Turkish security forces and police officers by the outlawed militant group the PKK or Kurdistan Worker's Party.
Saturday's rally had been organised to protest over a conflict in Turkey's southeast between PKK militants and Turkish security forces.
Authorities have named ISIL as the prime suspect, but there has been no word from the group that is usually quick to claim responsibility for any attacks it conducts.
We talked to analyst Nihat Ali Özcan, with the think tank TEPAV, Turkey's Economic Policy Research Foundation in Ankara.
Bahtiyar Küçük, euronews: "Turkey has been shaken by the worst attack in the republic's history. Three weeks from snap elections, bombs go off in one of the most secure parts of Ankara. Turkey has been carrying out military operations against the PKK and ISIL since 24th July. Was security for this peace rally sufficient?"
Nihat Ali Özcan, security analyst, TEPAV: "Looking at the result and the authorities' explanations, we realise there was negligence concerning information and security. The police took the necessary measures at the gathering place itself. But the terrorists trapped people where they started out together to go to the rally. The surroundings weren't secured."
euronews: "Some people blame the government for this attack. Prime Minister Davutoglu and co-leader of the HDP Demirtaş have traded accusations. Who do you think is behind these attacks?"
Özcan: "There are several dimensions. All the information shows it is the other side. When we look at it this way, ISIL's attacks in Syria against the PKK and the PYD show that the group's violence is evident within Turkey, and all this is independent of the elections. Clearly, the government does have a political responsibility given these circumstances."
euronews: "Three months ago on the border with Syria, in Suruc, 33 people were killed. Are these attacks linked?"
Özcan: "There are similarities between the two attacks when we look at the method, the people targeted and the picture after the attacks. However, there have been other attacks which have links to these two, and which keep happening. Specifically, the meeting of the HDP in Diyarbakir on the 6th and 7th of October coinciding with the events in Kobani, attacks by the PKK against ISIL supporters, and other individual actions aimed at civilian Islamist politicians show us this really is a confrontation between the PKK and ISIL, and it's expanding daily."
euronews: "Is it a PKK election strategy? The terrorist organisation on the day of the attack said it would lay down arms for the elections."
Özcan: "I think that's a coincidence, but the elections are soon. The PKK has organised attacks in some unusual places and ways. But the elections are imminent. The PKK now has a role in Syrian and Iraq. In the fight against ISIL, the international stage ensures the PKK a legitimacy which allows it to continue its fight."
euronews: "How does the Ankara attack affect the 1st November elections?"
Özcan: "We can't draw a definitive conclusion. This kind of attack can bring two results: a feeling of insecurity could bring people closer to the government, but on the other hand there could be criticism and concerns that might reinforce the anti-government block."