Partial sale of Poste Italiene is 'biggest privatisation in a decade'
Comments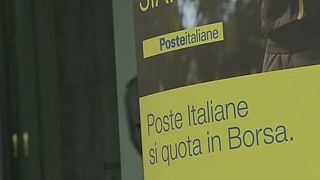 Italy is launching its biggest privatisation in more than a decade with the partial sale of the national post office.
The government is selling up to a 40 percent stake to raise up to 3.9 billion euros in proceeds.
An investor roadshow began in Milan on Monday.
Poste Italiene is more than 150 years old and has a thriving banking arm.
The chief executive says the IPO will contribute to the modernisation of the country.
"It's the biggest European privatisation of 2015. It's a very good start [for further privatisations] and we hope, with our investment plan, to show investors how interesting the growth prospects of this company – and of the country, in general – are," said Poste Italiane CEO Francesco Caio.
The proceeds will make a limited contribution to Italy's debt reduction plans but Prime Minister Matteo Renzi has staked his reputation for reform on the IPO; the sale is part of his wider plan to raise 12 billion euros.
The post office has more than 30 million customers with postal savings deposits worth 420 billion euros.
Mobile banking, remittances and ecommerce are seen as potential growth areas for the post office.
Reports say it has plans to hire 8,000 new staff.
The government has also proposed the partial sale of the state rail network and air traffic control.