Ireland ready themselves for French resistance
Comments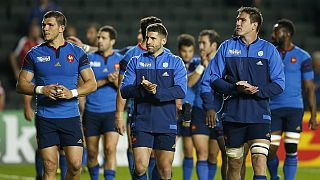 Ireland and France go into their final World Cup pool match knowing that plenty is at stake.
The winners will be rewarded with a quarter-final date with Argentina
The losers will play the champions New Zealand.
Ireland are unbeaten against the French for the last four games. But Paul O'Connell, the Ireland captain and lock, says his team will need to come to terms with the physical threat of the French XI.
"They're a big side, they're massive big, strong athletes – bigger than us. That's what teams do when they play Ireland. That's what South Africa do as well, when they play Ireland."
Looking ahead, the French captain, Thierry Dusautoir feels his team may have a slightly better chance against the Argentinians.
"Look, the last time we played against Argentina, we lost it. So it's true that we can maybe have more opportunities to win the game against the Argentinians, but I don't think it will be easy for us to play against them."
Either way both teams will be putting all on the line to avoid a quarter-final encounter with the All Blacks