IMF and World Bank annual meeting underway in Lima
Comments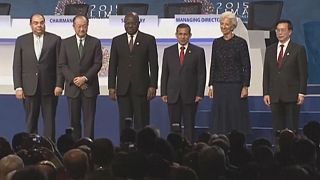 The annual meeting of the International Monetary Fund and World Bank is getting underway in Lima, Peru, with the global economy on perhaps the shakiest ground since the financial crisis erupted in 2008.
Britain's finance minister George Osborne has said global economic risks are rising and the latest news worrying, despite some bright spots.
The head of the IMF has urged policymakers to support growth while also tackling financial risks – as she listed the changes occurring in an "uncertain world".
"China moving to a new growth model. And the expected shift in US monetary policy. These are necessary and healthy transitions, but they are impacting other countries across the globe through trade, exchange rates, through assets markets and capital flows, that we all call conveniently spillovers," Christine Lagarde said.
The IMF has again urged Federal Reserve chair Janet Yellen to stay her hand before tightening policy.
Meanwhile G20 finance ministers have given the green light to a series of measures aimed at clamping down on tax avoidance by multinationals, closing loopholes that allow corporate profits to disappear, or be artificially shifted to tax havens.
Angel Gurría, the Secretary-General of the OECD, which is working on the tax project with the G20, has said tax avoidance is sapping economies of the resources needed to jump-start growth.
How will #G20-endorsed #BEPS recommendations work to end international #tax avoidance? Watch http://t.co/ID1IIMFWVgpic.twitter.com/W6xMlVyhVb

—

OECD

(@OECD) 9 Octobre 2015