Ferrari 'could push for 12 billion euro valuation' in IPO
Comments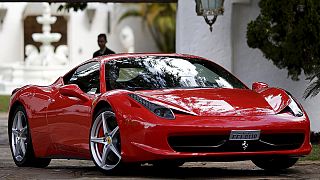 Reports say Ferrari could be valued as high as 11 billion euros in an initial public offering later this month – up from its current 10 billion – according to a report by Bloomberg.
Fiat Chrysler plans to spin off the sports car by selling off a 10 percent in the division on the New York Stock Exchange, according to sources.
Ferrari Chairman Sergio Marchionne, who is also Fiat Chrysler's chief executive, has been insisting that the brand should be valued as a luxury goods maker not as a car manufacturer.
Fiat shares jumped in New York and Milan – they are "accelerating following Ferrari's race to Wall Street", Bloomberg quoted one commentator as saying.
However sources say the valuation could change amid market volatility following the Volkswagen emissions scandal.