Volkswagen boss apologises to US Congress for diesel emissions scandal
Comments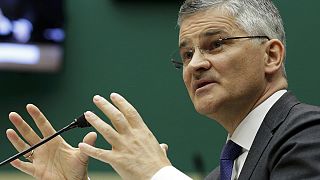 German public prosecutors have raided the company's headquarters in Wolfsburg and other places as part of their investigation into the falsifying of diesel emissions.
They said they were looking for data linked to the so-called "defeat devices", and wanted to find out who was responsible for the alleged manipulation.
Meanwhile, Volkswagen's American boss has apologised to a US congressional committee for the scandal which saw software installed in millions of cars designed to cheat anti-pollution tests.
Michael Horn was giving evidence in Washington to the House committee on energy and commerce.
"I would like to offer a sincere apology, a sincere apology for Volkswagen's use of a software programme that served to defeat the regular emissions testing regime," said the chief executive of Volkswagen USA. "These events are – and I fully agree on this – deeply troubling. I did not think that something like this was possible at the Volkswagen Group. We have broken the trust of our customers, dealerships, and employees, as well as the public and regulators."
Michael Horn said he felt "personally deceived" over the scandal, saying that cheating was not a corporate decision, but something that "individuals did". Questioned repeatedly what such individuals' motives might have been, he said that was being investigated by the company.
Overnight he had given a written testimony to the panel – saying he had been told in the spring of 2014 that there was a possible emissions non-compliance that could be remedied. And that he was told company engineers would work to put it right.
The chief executive added during the session that he had no idea what a defeat device was or that Volkswagen used them.
Watch the full speech as head of VW USA appears before a sub-committee over allegations of emissions rigging http://t.co/qGcXXjQK6X

— euronews (@euronews) 8 Octobre 2015
VW expects it will take at least one or two years to fix the affected American cars. It's to offer a financial package to dealers – and full transparency as investigations are carried out.
Last month remember VW admitted having fixed cars with software allowing Volkswagen cars to get round anti-pollution tests in the US where the rules are particularly strict.
Eleven million vehicles worldwide are said to have been equipped with such software which means they do not respect anti-pollution standards.
According to German newspaper the Süddeutsche Zeitung, the software was also activated in Europe. Previously the company had said the manipulation software was not switched on.