Tsipras beings 'race to reform' following Greek confidence vote
Comments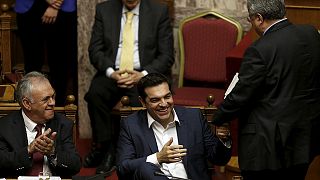 Greek Prime Minister Alexis Tsipras and his new government have won a confidence vote launching a race to pass key reforms before Athens faces a crucial review of its international bailout.
Although as expected, all 155 lawmakers in the governing coalition in the 300-member Parliament backed Tsipras, the debate beforehand was at times heated.
"We put our hands in the fire and we are very proud about this, " said Prime Minister Alexis Tsipras. It's because the Left and the Progressives have played a significant role, not by pointing out the difficulties that we face or pointing out that Armageddon that is coming, but by changing things by staying to fight the battles."
The first set of 48 reforms which include tax hikes and pension cuts needs to be turned into law by October 15. Greece's centre-right New Democracy leader Evangelos Meimarakis, blamed Tsipras.
"The truth is, unfortunately, that the dangers which lie ahead of us, they were created because of your first administration, and the truth being that a very harsh Winter awaits the Greek people, perhaps the harshest they have yet been through."
Tsipras has promised to try to ease the pain but he knows the reforms are crucial in order to unlock funding to recapitalise the country's banks.
Reporting from Athens for euronews, Stamatis Giannisis summed up: "The new Greek government may have won an easy victory in parliament, but the real challenges are still ahead as Alexis Tsipras and his ministers are faced with an extremely tight time schedule in order to deliver what they agreed with the country's lenders last July."
Tsipras was re-elected on September 20. During his campaign he vowed to persuade Greece's lenders (The European Union and the International Monetary Fund) to begin talks on debt relief before the end of the year.
The leftist leader needs Greece's debt to be restructured to convince his countrymen that after seven years of economic hardship, he has achieved something in return for performing a spectacular U-turn and accepting austerity conditions he had rejected in June.
Social media was split over the parliamentary debate.
While listening to #Tsipras, it seems as if he expects to hear both an apology from his skeptics & congrats for destroying the country.

— The Greek Analyst (@GreekAnalyst) October 7, 2015
Hollande: EU must see positively a debt relief for Greece. Positive references to GR and Tsipras. Yet, it 's time words become actions.

— Dim. Papadimoulis (@papadimoulis) October 7, 2015
Let Tsipras reform the Greek state & economy respecting the social needs. Europe as a whole would benefit from it. pic.twitter.com/gUrXS0bxJZ

— Hannes Swoboda (@Hannes_Swoboda) October 7, 2015