Turkish opposition leader promises radical reforms and media freedom, ahead of crunch election
Comments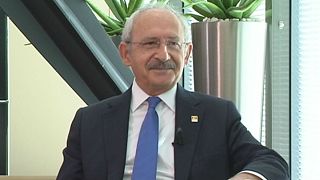 Turkey is counting down to snap elections. Coalition talks between political leaders after June's poll broke up without any conclusion.
Now everybody is waiting to see if Turkey will wake up to a 'one party ruling' era or another round of coalition talks on the morning of 2 November.
Ahead of the poll, euronews has spoken to Kemal Kılıçdaroğlu, leader of the main opposition Republican People's Party or CHP.
Turkey will 'surprise' EU
Nezahat Sevim, euronews: "If the Republican People's Party is in power after the next elections, what will happen to membership negotiations between the EU and Turkey?"
Kemal Kılıçdaroğlu: "The process will advance rapidly. We won't wait for the EU to open a new chapter. Whatever standards the member countries have for democracy, law, gender equality, judicial independence etc, we will carry them out. We never wait for the opening of another chapter to do so.
"So, we will surprise the union. The union will see that without opening a new chapter, Turkey will have already fulfilled all of the criteria."
Forming a government
euronews: "On the 7th of June, there were successful elections in Turkey. But the talks between leaders were fruitless.
"The Republican People's Party was second but, despite this, you weren't charged to form a new government. In your opinion, what was the reason?"
Kemal Kılıçdaroğlu: "The one who sabotaged the elections in some way is the one who lives in the palace, Mr Erdogan.
"Regarding the constitution, he needed to be impartial, he neglected impartiality.
"He was present at the election campaigning rallies. And he asked for votes openly, for the party that he used to be the leader of. He didn't want a coalition, he was really worried about this.
"Even he said that it would be suicide if Davutoglu formed a coalition. In the end, a coalition couldn't be formed. No we are heading for another election."
Fresh election, fresh coalition talks?
euronews: "Some polls suggest that the elections results won't be much different than the previous one. At least it looks unlikely that there will be a one party government. This means there could be a new round of coalition talks. In this case, what would CHP do?
Kemal Kılıçdaroğlu: "If we become the first party, and if we are charged to form a new government, we will definitely form a coalition or government.
"Turkey has no tolerance to wait or to go for another election. The problems are getting deeper and bigger.
"We are already in contact with all the political parties in the parliament. We're the only party that's in contact with all of them.
"We are in contact with MHP, HDP and AKP as well.
"There are two polar opposites in our parliament, HDP and MHP. Even these two agreed on CHP involvement, underlining that we need to be part of a coalition."
Securing peace
euronews: "There was a ceasefire for nearly two and a half years but, after the elections, terrorism has emerged in Turkey again.
"There is also a peace process over the Kurdish issue, but it has reached a stopping point.
"If CHP becomes the ruling party, how do you promise to solve this?"
Kemal Kılıçdaroğlu: "The reason that this problem couldn't be solved until now is because politicians have not carried out their duties.
"They always took this issue as a security issue and they charged security forces, the army, to solve this problem.
"There should be a reconciliation commission in the parliament, social reconciliation needs to be implemented.
"If we can succeed in carrying on this social reconciliation, we can solve this problem. If there is any party that can solve this problem, it is CHP. There isn't any other party that can solve this problem."
euronews: "But as a left wing party, CHP can't obtain the votes it expects, that it wants from the eastern regions, where a mostly Kurdish population live.
"What is CHP doing about this? What is CHP's plan to win the hearts of Kurdish voters?"
Kemal Kılıçdaroğlu: "There has been polarisation for years. There's an ethnic separation. Therefore, Kurdish people vote for HDP.
"During one of our campaigns, we asked them 'look, CHP has done everything to solve this problem and outlined a road map. Why don't you still vote for us?'
"They say 'because we have our own party, we will vote for it.' We say 'but it is us who has found the solution.'
"We acknowledge, we realise this separation. Turkey will find solid ground when this problem is solved."
"Peace should come to Syria"
euronews: "With regards to finding a solution for Syria, world leaders have disagreements, whether Bashar al-Assad should stay or go.
"Where do you stand on this? If CHP comes to power, what will be Turkey's foreign policy on this issue?"
Kemal Kılıçdaroğlu: "Turkey should be an important action in solving the problem.
"If there are human rights violations in a country, we will do everything possible to prevent them. But it is not correct if you fully support one of the sides and totally ignore the other side.
"With or without Assad, it doesn't matter for us. Peace should come to Syria.
"ISIL definitely needs to be silenced. We totally can't accept ISIL becoming a neighbour on our borders."
euronews: "In your view, should Turkey stand remain at a political level, a talks level – or would you give the green light to a military operation?"
Kemal Kılıçdaroğlu: "If necessary, military operations should be on the table. We already have our suggestions about this.
"We said that if it is against ISIL, we as CHP, would say 'yes' to a military bill."
Coping with the migrant crisis
euronews: "Let's talk about refugees. There's an approach that's adopted more by Europe and the west that 'we provide the financing and the countries in the region will take care of refugees, host refugees.'
"There are nearly two million refugees in Turkey and counting. What is your opinion on this?"
Kemal Kılıçdaroğlu: "On this subject, I don't think the west is acting with goodwill. I say this with all sincerity.
"I think this because when more two million refugees came to Turkey, we received nothing more than applause from the West.
"The West understood the importance of the work Turkey was undertaking, only when refugees started going to the West.
"And they said, 'the refugees shouldn't come to our countries.'
"They said 'we give you the money, they stay in Turkey.' We don't accept this.
"There needs to be a rapid end to the internal conflict in Syria and wrecked cities down there need to be re-built. We should let Syrians turn back to their own country."
Election pledges
euronews: "Let's talk briefly about your election campaign. You mention constitutional changes, lifting the 10 percent threshold in elections. What are your plans?"
Kemal Kılıçdaroğlu: "The coup d'etat on the 12th of September is believed to be a democratic regression in our history.
"There was oppressive governance, military rule and a law brought by them. And this law is still in effect now.
"We want to change this coup d'etat law.
"The constitution, the election law and the internal regulations in parliament absolutely need to be changed.
"Now there are great oppressions over the media in Turkey. Instead of changing the 12th of September coup d'etat law, this law is reinforced, strengthened. We see it clearly over the press."
euronews: "You are in Lyon. This is a very last minute addition to your Europe tour. What does CHP promise to Turkish voters, in Lyon, in all of Europe?"
Kemal Kılıçdaroğlu: "We ask them to vote for CHP, if they want democracy, freedom, justice, a free press, judicial independence and equilibrium for their country, like in France."