Indonesian forest fires blanket region in smoke
Comments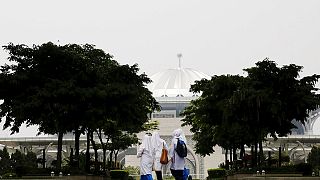 Forest fires continue to rage in Indonesia as provincial disaster management team attempt to water bomb them from helicopters.
A total of six provinces are covered with dense smoke, leaving air quality at a dangerous level and 135,000 people complaining with respiratory problems
Indonesia's #haze has affected people's health, but migratory birds have it much worse http://t.co/NrXTAPormSpic.twitter.com/GSZLSUvG7I

— Greenpeace (@Greenpeace) October 6, 2015
Corporations are blamed for the annual burning in order to clear the land for commercial reasons.
Companies want the land cleared in order to plant other trees that will be eventually harvested for paper pulp and lam oil.
The Indonesian government has sent 9,000 soldiers and police to help control the fires.
A lengthy dry season in Indonesia this year has been made worse by the El Nino weather effect, making it harder to contain the fires in the absence of rains in November.
Indonesia says it's tough to tell when disruptive haze will end http://t.co/tbpJmQ8pyQpic.twitter.com/yeNEo0qq98

— Bloomberg Business (@business) October 6, 2015