IMF downgrades global growth forecast
Comments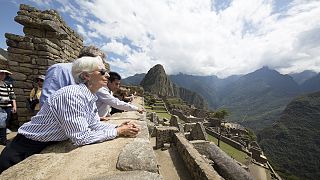 IMF director Christine Lagarde has been drawing inspiration from some of Peru's attractions as the International Monetary Fund and World Bank hold their annual meeting in Lima.
But the IMF has issued a downbeat projection for global growth, saying it will be the weakest since 2009.
Six years after the world's worst postwar recession, estimated growth for this year has been downgraded from 3.3 to 3.1 percent.
Next year it's predicted to recover – but only to 3.6 rather than the previously estimated 3.8 percent.
The IMF says the outlook for emerging markets and developing countries is particularly bad.
Many developing countries are seeing debts rise as their currencies weaken – while falling commodity prices have hit oil-producing nations.