Passos Coelho wins re-election in Portugal, says ready to "compromise"
Comments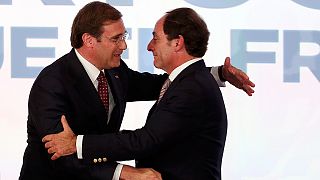 It is a win, but not with an overall majority for the Portuguese centre-right, which looks set to win about 38.5% of the vote to the Socialists 32% in the general election.
Prime Minister Pedro Passos Coelho becomes the first European leader to win re-election after imposing harsh austerity at the EU's behest on a member state's economy.
Another coalition appears inevitable, and the drop in support means Passos Coelho may have to soften some policies.
"This is the first time that a coalition government completed their mandate. It was the first time," he claimed.
Antonio Costa was cheered by his supporters, but was unable to turn years of austerity into a Syriza-style revolt at the polls. The Socialists beat off the other left-wing parties, who scooped around 18% together.
"The coalition must understand that Portugal is experiencing a new political moment, which means they cannot keep governing as if nothing had happened," said Costa.
Two other leftwing parties scored 18% between them, the new Left Bloc, and the Communists, but neither are comfortable with working with the Socialists.
The first test of the stability of the new administration will come in the next few weeks with the approval of the 2016 budget. Coming on the back of three years of recession and a huge flight of young people abroad, people are looking for some relief.