Third Tashkent Judo grand prix begins in Uzbekistan
Comments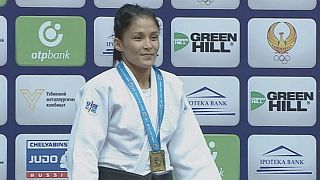 Turkmenistan won its first ever judo grand prix gold medal on Thursday when Gulbadan Babamuratova beat her rivals to the under 52 kilo crown.
She beat surprise finalist Maria Ertl from Germany.
In the under 48 kilos category former world champion and World Judo Masters winner Munkhbat Urantsetseg won gold for Mongolia, beating Souh Korea's Jeong Bo Kyeong.
And in the under 57 kilo class Korea's Kim Jan-Di snatched the second Grand Prix win of her career by emphatically dispatching Russia's Irina Zabludina.
In the men's competition Uzbekistan star Sharafuddin Lutfillaev had been the hot pre-tournament tip,
but Japan's Oshima Yuma had other ideas in the under 60-kilo class to upset the crowd favourite.
and in the under 66 kilo class Japan's 18-year-old sensation Abe Hifumi failed to disappoint as he beat China's Ma Duanbin in just 36 seconds courtesy of an osoto-gari.